Why to Choose Wyld Men Selfie Box?
Whether you are a perfume freak or not but we Indians always crave for more in less concept. What's better if you can get seven very desirable, genuine international fragrances from the big fragrance countries like Dubai, England and France, in a price less than 500/-Rs? Sounds so unbelievable right? I know I too felt the craziness from the bottom of my heart before I brought the product to try it. And believe me I not a singer mini perfumer had disappointed me.  Let's find out why?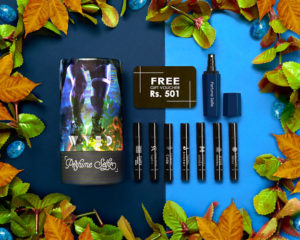 The kit is a blind folded brilliance.  This amazing selected magical fragrance of international range of exotic "Wyld" perfumes belongs to the world of darkness as mentioned on the PerfumeBooth, the mother company's site. This box is for the unstoppable, unbeatable men within you. Each scent is the epitome of timeless, masculine elegance, and need not to say it's truly a classic tale.
The Wyld Perfume Selfie Box is beautifully arranged with seven beautiful fragrances-
First comes, Urban Man from the brand Brand: Emper
Directly at your doorstep you will get a fresh young fragrance from UAE. A woody aromatic blend of Artemisia, lemon, juniper berries and sage embodied with the lavender, patchouli and violet leaf will be every man's prized possession.
CA Classic Man, Brand: Chris Adams
It is a platinum collection product with a French accent. The glass bottle comes with mature charismatic scent of deep aromatic aqua freshness, for a self assured man who exhibits elegance and refinement every time he steps out.
Code Man from Brand: Lomani
The best bargain house in the fragrance community is here with a wild mixture of grape, lavender and musk. This Grape drink cologne is a gift for your senses and will surely lift your class a notch higher with its divine power.
Creation Energy Brand- Creation
The fragrance of sports filled within the little glass bottle, that winds up your nostrils will combine the freshness and sensuality in each of its energetic drops.
English Blazer Original Brand- English Blazer
This bottle heralds in a new era of distinguished masculinity. With its Original world-class fragrance; accented with style and refinement, it is simply the expression of man's thirst for excellence and attention carved to details.
Louis Cardin Silver Brand:Louis Cardin
It is an oriental spicy fragrance for men. Maximize the aroma of your soul with the fragrance feature of spicy note of musk, patchouli, amber, orchid, white musk and wild vanilla.
Union from the sophisticated Brand:Maryaj
Undeniable fragrance for every mood whether worn during the day, night, for work or for play, you will surely not fade away anyway, with a fruity green note of black currant, green tea and sandalwood.
Because of so many fragrances you can choose the most preferred one and redeem a 501 Rs coupon that is kept inside each pack. It makes Wyld perfume Selfie box is a smart choice. It's specially designed EDP series with powerful bottom notes to make it ready for the summer outdoors and everyday run. It gives a sporty dusky scent that is highly preferred by Indian men.
The fragrance is long lasting and sooths skin to give a cool soothing effect.  It stays for about 8 hrs in outdoor conditions. For any perfume lover who is hoping to try some new topical International range, this product is a must to try once. And the bonus point is that you can carry the mini testers anywhere with you and it can be your vacation partner also.