Get Ultimate Fragrance Experience with Colour Me Perfumes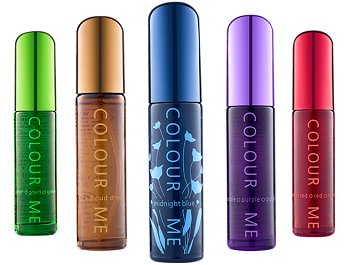 Perfumes have the ability to lift your mood, and it can set your day from morning. So, if you want to purchase a perfume that can give you long-lasting fragrance to keep you refreshed, always go for Colour Me Perfumes.
Background of the Colour Me Perfumes:
The colour Me Perfume began in the year 1975 by Milton Lloyd. This Milton Lloyd perfume offers the most exquisite quality fragrance at the most affordable price. As per Milton Lloyd, a good perfume is not made by an expensive container and beautifully designed shape of the bottle, what matters is the extensive fragrance. The essence of the excellent fragrance, contained in the simple looking bottle matters the most.
Variants of Colour Me Perfumes:
Colour me perfume comes in different variants. The three most famous options include:
Colour Me Pink:
The Colour Me Pink is a feminine fragrance with soft and floral notes and base. This is one of the most feminine scents loved by women all over the world. This romantic perfume scintillates the senses, and it will give a romantic vibe and aura to your personality. The perfume has a sweet and musky smell, and you will definitely get lots of compliments when you are wearing this Milton Lloyd perfume.
Colour Me Purple:
The Colour Me Purple has an elegant, modern, and well-balanced fragrance. It is basically liked by women who have an elegant and vibrant personality. This perfume has a top note of bergamot and watermelon, and the dry down has a blend of oakmoss, amber, and woods.
The perfect blend of all these notes makes this scent perfect for almost all occasions.
Colour Me Femme Gold:
This perfume has the most long-lasting fragrance as compared to the other two variants. It can last up to 9 hours on a typical day. The flowery, fruity notes will give you a refreshing vibe throughout the day. You can use this perfume for casual as well as special occasions.
Why must you have Colour Me Perfume in your wardrobe?
Colour Me Perfumes are made to suit all kinds of personalities. The perfumes by Colour Me can add Colour and fragrance to your boring daily life. The vibrant fragrances offered can suit almost everyone. The sporty fragrance, subtle scent, and flowery fragrance can be suitable for men as well as women. The best part about the Colour Me Perfume is that it lasts long and thus you don't have to worry about your body odour at any time of the day. So, if you want to have a perfume that can be suitable for a day look as well as a night look, try to add the Colour Me Perfumes to your wardrobe.
You may have tried hundreds of fragrances, but trust us, the perfumes by Colour Me will be one of the best you will ever use. It is very difficult to find good quality perfumes at affordable prices. Thus, go for Milton Lloyd Perfume, as they fulfil the promise of affordability as well as quality. This summer, try Colour Me Perfume and let us know about your experience.