PerfumeBooth Offers A Wide Range of Products In the New Year
When it comes to perfumes, we generally love to stick to limited items. Some of you might be using perfume, while others prefer deodorants, but there is more to the world of fragrances than what meets the eye. There are tons of perfumed products ready to give you marvellous fragrance, cheering your mood, adding that kick to your walk and confidence to do everything in style. Each have a unique fragrance level usage style which serves a different purpose. PerfumeBooth, being one of the top fragrance selling online websites in India, understands the need of different customers so they came up with a wide range of perfumed products in the new year.
Perfumes
Perfumes is the biggest category when it comes to fragranced grooming products. PerfumeBooth offers Eau de Parfum, Eau de Toilette, Parfume de Toilette and much more serving your fragrant needs. If you love more in-depth perfumes go with EDPs or eau de parfum, if you love perfumes with active masculine fragrance, EDT or eau de toilette is your pick and so on. Top international brands like Colour Me, Baugsons, Creations, Lomani, Chris Adams, Emper, Maryaj, English Blazer, Louis Cardin, New NB and many other are offering exciting range of perfumes for men and women.
Body Mist
Body mists are the most gentle form of fragrance available. Designed to give a subtle fragrance while moisturising the skin. For those ladies who do not like over powering perfumes or deodorants, can go with body mists for women. Jacqui's Passion, which is a USA based brand providing a magnificent range of body mists for women. Floral, fruity, fresh and a mix of other sweet scents are available in this range. You can enjoy the soothing fragrance and delicate touch of mist on your skin with this mild fragrance.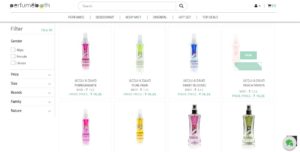 Deodorants
Deodorants have become a crucial part of daily grooming. Whether you are a man or woman, bottle of deodorant have a place in your bathroom vanity. They are designed to eradicate sweaty smell or bad body odour, giving a refreshing fragrance for long hours. Giving you an endless range of options in deodorants for men and women, PerfumeBooth has added International deodorant and body spray brands to their Fragrance collection. You can shop from top brands like Baugsons, Colour Me, Chris Adams, Lomani, America and many other international brands available on PerfumeBooth.
Oriental Range
Bringing in the fragrances from the old souks and streets of Middle East, PerfumeBooth has added fine range of Otoori Attars and Bakhoor to their product collection. Attar is one of the oldest forms of fragrance available in oil form. It is highly concentrated and made from natural botanical sources. Just one small drop is enough to give you an all day of fragrance.
Bakhoor is quite different from all the perfumed products. You do not apply it but burn it in a bakhoor burner or on burning coals. Bakhoor is a mixture of natural herbs and fragrant woods that gives off fragrance on being burnt. It is suitable to create a pampering environment and relaxing senses after a long day.
You can shop all these with an ease on the new PerfumeBooth website. There are tons of new features added to the new website making your fragrance shopping super exciting. Secured payment gateway, order tracking, multiple payment options including Paytm, and 300+ new products added for giving you an ultimate shopping experience. Visit PerfumeBooth now and enjoy a fragrant shopping!