Popular Engage Perfumes You Should Try
There is a wide range of perfume brands available in this country but only about a handful of them are able to deliver fascinating sense pleasing fragrances. Among these fabulous perfume brands, there is one that has made a name for itself – Engage perfumes. Owned by popular corporate group ITC in India, this one brand has a decent range of fragrances available for men and women. Launched in the year 2013, the brand offers about 20 products for men and women giving them a fragrance for each occasion. Some of the most popular perfumes for men and women available with the brand are listed below. The range for men is marked as M and the one for women is W. There are 4 products available for each gender having in total 8 perfumes.
M1 & W1 by Engage: In this M1 perfume spray from Engage is a super romantic and irresistible perfume. It is loaded with floral and fruity scent with woody under notes. This is perfect for romantic night outs, date nights and parties. The W1, on the other hand, is very gentle and refreshing at the same time. A fabulous mix of exotic white flowers and fresh notes, this perfume is perfect for all-day wear in the summer season.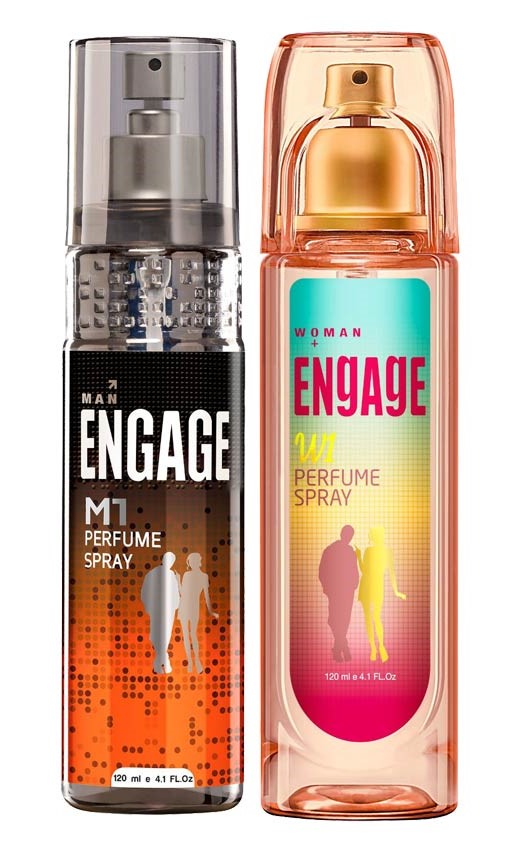 M2 & W2 by Engage: In M2 perfume spray by Engage there is an abundance of fresh notes keeping you smelling amazing all day long. The perfume is a blend of citrus notes obtained from the Italian region of Bergamia adding that international touch with a boost of fresh fragrance. On the other hand, W2 for women is a refreshing perfume spray with aqua notes and marine notes having a zesty citrusy touch to it. Both of these perfumes are perfect for all-day use during warm seasons.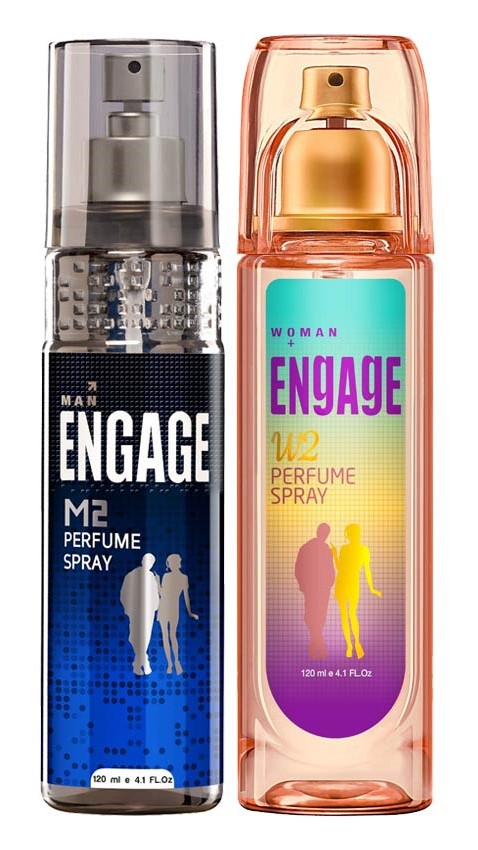 M3 & W3 by Engage:  M3 perfume spray by Engage is another refreshing perfume for men with minty fresh notes. the main accords of this perfume are mint, lavender, lime and wood giving it that forest fougere feel. It is great for all-day wear for colder seasons. The W3 perfume spray for women is also a very refreshing perfume that is loaded with lime, apple, jasmine and rose accords. This fresh and fruity perfume will make you feel energetic all day long.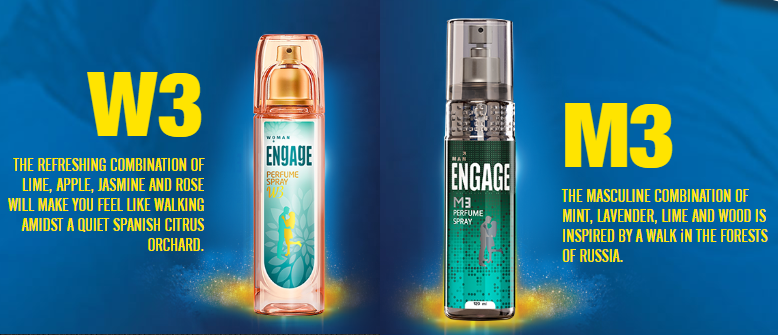 M4 & W4 by Engage: M4 perfume spray by Engage is very energetic and refreshing. It has main accords of zesty lemon, juicy orange and warm woody notes. The perfume is suitable for evening and night use. The W4 perfume spray for women is very sensuous and sweet having vanilla, red berries, peony, praline and candied apple as the main accord. This sweet sensuous perfume is suitable for day as well as night use.

Not just the perfumes, the brand is also known for its deodorants, colognes and pocket perfumes. They can be easily bought from the local stores and drug stores at a budget-friendly price. Since they are made on a large scale with budget-friendly ingredients, the perfume essence is not of that high quality. Depending on the type of perfumed product you have chosen, the fragrance can last from 2-6 hours. It can be your switch from deodorant sprays to perfumes without going overboard with the cost. However, if you are looking out for fabulous long lasting perfume that can last for more than 12 hours or more; you should go with international perfumes available with most of the online perfume stores in India.