Should Have All Time Classic Perfume Notes For Every Man
The best way to smell amazing all year long is to have the best fragrances. And when you are not sure which perfumes are best, having the right notes can help. There are certain perfume notes which are classic, and everyone must have them. For men, there are a few all-time classic perfume notes. Citrus, woody, Aquatic, Herby, and fresh florals are the popular ones in it. Citrusy perfumes are comforting fresh fragrances. They are filled with lemons, limes, oranges bergamot, and other citrusy flavours. You can wear it around the year.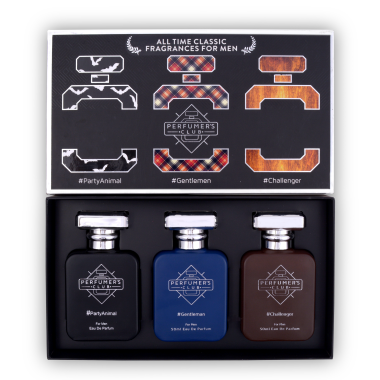 Woody notes on the other hand are meant for evenings and sensuous perfumes. With a floral and woody blend, you get a perfume ideal for everyday office use. Aquatic and herby perfumes are also soothing for the senses. They are ideal for evenings and warm days. Fresh florals are ideal for sensual moments like dates. You can get perfumes with these notes in base and top notes.
What Makes Citrus The Best Perfume Note?
Due to their refreshing and pleasant aroma, citruses are loved by all. Every perfume for sports and everyday wear has these notes. It is also known as the universal perfume note for this reason. If you are wondering what makes it the best perfume note, well it is suitable for every season. You can wear it in summer as well as winter and even in the monsoon. This perfume note has a positive effect on your mood. It makes you smell good and feel good at the same time.
It often happens when we plan to buy a perfume gift for someone and not knowing what they like. In such cases, citrus can be your helping hand. It is a universal unisex scent. Buy a men's or women's perfume with fresh citrusy notes when you are in doubt. They will like it for sure. You can get one in All time classic fragrances for men. This is a gift pack by Perfumer's Club having three best men's perfumes.
Does Body Spray Also Have Notes In Them?
Yes, every perfumed product whether it is a spray or moisturizer has fragrance notes in them. the scent you smell does not come from one thing or ingredient. It is created by a blend of various ingredients giving their aroma. Quite like perfumes, perfumed body sprays or deodorants also have three layers of notes. Top notes are the ones that hit you first when you spray it. Middle or heart notes come after 10 minutes when the scent interacts with your pheromones.
The base is the dry down notes or what is left of the perfume on you. It is also the strongest of them all, lasting longer. Some brands often supply the details of notes on their products. If not, you can get a detailed list on their product page. It helps in knowing what a scent is all about, especially while buying online.
You can get complete details of notes on online perfume stores. Explore the description and perfume details while buying scents from perfume stores.