Tips to Keep in Mind While Buying Deodorants
Deodorant has become an essential part of our everyday life. It provides relief from the poor body stink, adds a layer of fragrance and keeps your mood upbeat. The younger generation do not even prefer to step out without applying a layer of deodorant all over their body. Depending on the various uses, there is a wide range deodorants and body sprays available for the masses. There are roll ons, sprays and sticks, all you have to do is to select the one which is useful to you and is available in the budget. With this kind of wide range of options to chose from, the youngsters often are left confused and keep buying deodorants, trying out a new one every month.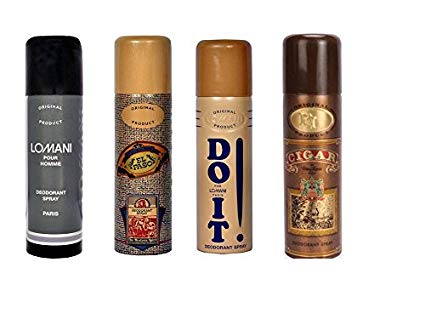 Instead of doing this, why not spend some time and scrutinize among the available options to select the perfect fragrance or deodorant brand so that you are not left confused in the aisle while shopping for one. Here are some simple tips that will help you to look for the perfect deodorant from the wide range of international brands deo.
Look for ingredients: Some of the deodorants contain allergic metals and elements. You should avoid them in case you have any skin allergies or have had allergies from body sprays. You can try out sprays from trusted brands such as Lomani Deodorant for best results as they are created by following all the government approved ingredients to keep your skin safe.
Sweat resistant: If you sweat too much, you need to look for a body spray or deodorant, which can help in reducing it. Buy antiperspirant roll ons or sprays with talc in it. These will help in reducing the sweat, keeping you dry and fresh for hours. However, try not to stop the sweating completely as it is good for your health as well as your metabolism.
Suitable fragrance: Some of the deodorants contain weird very strong smells. These might seem to be covering the sweat stink but once the top notes evaporate, these deodorants can make it worse. Instead of these, you must go with the ones that can remove the sweat smell permanently such as citruses, fresh, aquatic and so on. These scents are complimentary with your body odour, removing it completely.
Budget friendly: Instead of spending large sum of money on deodorants, why not buy combo packs on online perfume stores. There are various fragrance online stores in India that provide Lomani body sprays at a budget friendly price with amazing deals on them and in combo packs of 2, 3 and 4. You can choose the scent or variant of these international deodorants and buy the one, which is suitable to you.
With these tips, you can not only make your deodorant shopping easy but can also enjoy an amazing fragrance. Try to stick to the international body spray brands since they are loaded with high quality ingredients and are known to deliver long hours of freshness. Invest in the right deodorant body spray and see the difference it creates.