Which Perfume is best between "Eau De Parfum" And "Eau De Toilette"?
When we are buying perfume, it is not just the fragrance that one should focus on. There are many aspects such as lasting, feel, after feel, budget and the design of the bottle that helps in making the decision. You might love the fragrance of perfume but if it is not able to deliver fragrance for more than 2 hours, it is not worth spending your time and money on. Similarly, the kind of perfume you are buying can also impact your fragrance experience to a significant level. If you are not sure what the perfume bottle consists of, you might end up with something not worthwhile.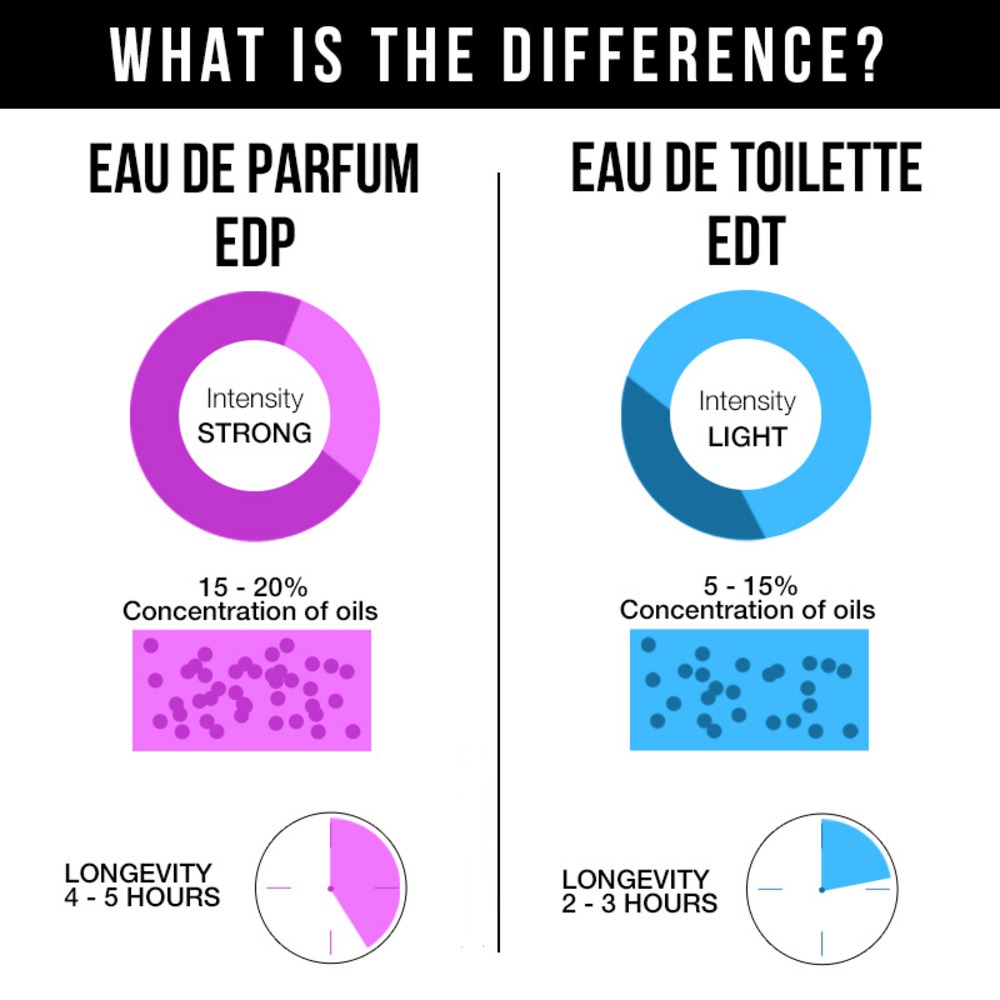 Now, you must have heard a lot about EDP and EDT, spoken while talking about fragrances and written on perfume bottles. The words that are mentioned on the perfume bottles and boxes are not just there because they sound fancy, but they gave a special meaning behind them. They describe the fragrance, giving out all its secrets. All you need to do is, understand these words and their meaning, using this information to purchase an ideal long lasting yet budget-friendly fragrance such as Mirage perfume. If you are wondering which perfume is best, we are here to help you.
What is the difference between EDP and EDT?
Eau de parfum and eau de toilette are types of perfume which defines the quantity of fragrance essence and the base composition. If you are not aware of it, the higher the fragrance essence in the base, the better fragrance and lasting will be. Eau de parfum contains 15-20% perfume essence concentration, which is very high as compared to types of perfume. While the eau de toilette, on the other hand, contains 5-15%, which makes it, second to the Eau de parfum variants.
Perfumes that have higher fragrance essence concentration, tend to stay on your skin for longer and give off better fragrance. Since there is less alcohol infused base in these types of perfumes, the fragrance does not evaporate so quickly. The only difference between the two is the concentration of perfume essence as compared to the base and nothing else.
Which one is better & budget friendly?
Among both of them, both are good but which one is better depends on what you want from them. If you want a blast of fragrance right at the moment you have applied the perfume and so on after that until it evaporates, eau de toilette is your best option. It contains high alcohol quantity and thus allows the perfume to evaporate faster.
However, if you are looking for gentle, subtle and lasting fragrance, Eau de parfum is the best option. With higher perfume essence, Eau de parfum will evaporate at a slower pace yet giving out consistent fragrance for longer hours. Out of both, EDT perfumes are cheaper but EDP last longer even with little quantity, making both of them the ideal choice for you. You can go with the Mirage Eau de parfum for men or the EDT version of it.
You can choose Eau de parfum and eau de toilette perfumes according to your budget and needs from online perfume store. There is a huge range of Eau de parfum, eau de toilette and other types of fragrances available online in India with detailed descriptions. You can go through these and select the one EDP Perfume suitable.