Why Perfume Testers Are The Best?
Whenever we enter the perfume store, testers are the first thing that we ask for. These little bottles of perfumes may seem to be very small, but when it comes to perfume shopping, they can come in very handy. They are guides to tell what the perfume is all about, making your journey of perfume selection much easier. Every store keeps certain perfume testers with them so that the customer can come, see them, try them and make the purchase in case they loved the scent. Even though these are small, they are filled with so many benefits for the perfume lovers.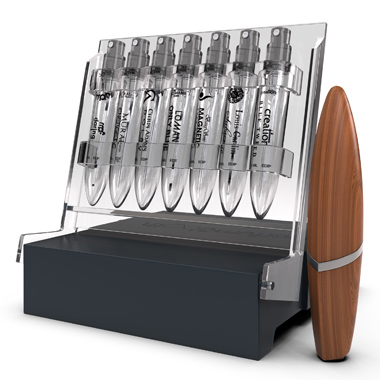 Test The Perfume:
This is the major use for which perfume testers were created. These specially packed bottles are only meant to be used as testers. Stores can provide these to the customer who wishes to try the perfume before buying them. Several online stores also sell these testers to their customers who wish to understand a perfume and try them before placing the order for this. This is a great way for the customers who wish to buy perfumes online but are feeling confused about it.
Carry Them Around:
Apart from testing the perfume, there are several ways to use these perfume testers. One such way is to carry them around. When you are busy, have a tight schedule and lifestyle, it becomes difficult to smell amazing all the time. You cannot carry your perfume bottle everywhere you go. However, with perfume testers, it is possible to take your desired scents wherever you go. Brands like Scent shot are providing Online perfume fragrance testers with a carry case. These are small enough to fit into your handbag, pocket or even clutch bag. You can slip in your favourite perfume and use it whenever you feel like.
Best For Travellers:
People who love to travel a lot often find it difficult to carry their perfumes with them on flights and on adventure travels. Instead of those bulky expensive perfume bottles, take perfume tester vials with you with the carry case. Being small, you can keep them safe in your luggage as well as complying with the airline rules. You can carry a couple of them of these vials, one perfume for every mood and occasion to smell amazing wherever you go.
Affordable Luxury:
Perfume tester vials are a great way to indulge in luxury for those people who love to use good perfumes but have a limited budget for it. They can order their vials online from the online perfume stores and use them without worrying about the high cost. Perfume lovers can order not one but up to 7 perfume vials as it is available with Scent Shot. These are priced at a much lower price so you can buy several of them at an affordable price.
Perfume testers are quite helpful and handy for the perfume lovers, you just have to think about the various ways to use these. They are budget-friendly, useful, easy to carry and travel.